The Benefits of Montessori Toys for Children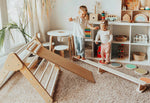 What makes a Montessori toy so special?

Simple, natural, and rooted in reality; When you walk into a Montessori designed space you will notice hand-crafted toys made from natural materials, with themes that portray realistic connections, rather than fantasy. Wood smart toys are the most popular because they are durable, healthy, sustainable, and provide a unique sensory experience.
---
Top 10 benefits of Montessori education for children

Fun, of course!
Gross motor skill development.
Fine motor skill development.
Exposure to cooperative play.
Creative freedom & independence.
Improved self-confidence.
Exciting way to improve math and reading skills.
Improved concentration habits.
Naturally developed self-discipline.
Encourages growth and balance.
---
Montessori toys are perfect for helping in childhood sensory development because they are exciting, interactive, and encourage children to explore their curiosity through experimentation. This is made possible due to the wide variety of specially designed toys, and when it comes to sensory development, there are two important types that work well.
---
1. Montessori Puzzle Games

Puzzles help your little explorer engage in information about the physical world through colors, shapes, weight, and even textures. Montessori puzzle games are great for providing a hands-on learning experience by allowing your child to practice fine motor skills, fundamental mathematical concepts, and logical reasoning.
2. Montessori Climbing Toys

These are great options for more lively children and typically encourage activities such as running, tumbling, climbing, jumping, crawling, and balancing. These activities are all important functions that aid in the development of a child's gross motor skills. These specially designed climbing toys are often seen in Montessori influenced playsets since they stimulate multiple functions in your child's movement providing them more freedom to safely explore their capabilities.
---
What is Montessori Education?

In short, Montessori education was developed by Maria Montessori as a way to more deeply understand the needs of a child from an emotional, physical, and academic standpoint. Whether in a classroom or your own home, the Montessori philosophy encourages children to learn and develop their skills through self-directed activity, hands-on learning, and collaborative play.
---
What is Maria Montessori's philosophy?

Maria Montessori made educating the whole child the central heart to this philosophy. Children are the future, and as parents and teachers we create the foundation for our little ones to blossom into compassionate, innovative, self-confident adults, who can contribute to society, and become fulfilled individuals. Thankfully, through the Montessori method of teaching we are able to design our children's environment so they may discover and develop these principles naturally.
Put simply, it's a lifestyle on how to raise and educate a child by developing the whole person through creative learning. It was discovered in the early 1900's with the foundational principles being individual liberty, observation, and preparation of a stimulating environment.
Whoever touches the life of a child, touches the most sensitive part of a whole which has roots in the most distant past and climbs toward the infinite future.
- Maria Montessori
---
The Importance of Playtime

Playtime for children is powerful, and learning while playing helps to build a foundation for important real-life skills. Therefore, a well structured environment is crucial to unlock your child's full potential through age-appropriate sensorial materials. The ideal learning environment should provide a variety of activities that range from simple to complex, and that assist in nurturing independence, freedom, order, and beauty.
Montessori inspired children's toys are specifically designed with education and entertainment in mind, and when learning feels like play, a child will be more receptive to their environment.
---
Whether searching for ideas to create endless playtime adventures or mind expanding moments for your little-one, there is a variety of options available to inspire you. The Montessori philosophy nurtures the internal cultivation of self-identity in this grand, beautiful world, and how they can grow into their unique potential. We as parents are our child's first and foremost teachers and have a powerful influence over how they learn and play. Traditionally speaking, education and playtime have been treated as separate activities which may not be optimal for some children, while on the other hand, the Montessori method of teaching focuses on allowing your child to experience education and playtime simultaneously so they may naturally come to love learning and exploration.
---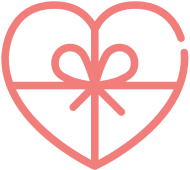 Join us for daily adventures
Lily & River is a family owned & operated children's workshop located in Phoenix, AZ (USA). Our mission is simple - to create the safest and most effective Montessori inspired toys to empower your little's to live a happy and healthy lifestyle.
Join our newsletter today!
Get 20% off when you sign up for our newsletter!
If you made it this far then I bet you would like some of our other resources. In our related post The Benefits of Sensory Toys & Sensory Play for Toddlers, we discussed:
What is Sensory Play?

Benefits of Sensory Play for Babies and Toddlers

What are Sensory Toys?

Benefits of Sensory Toys for Babies and Toddlers

Sensory Toys for Gross Motor Skills Development